Amanda Cruise and Amanda Luxury Cruise are two cruises that offer a unique and luxurious experience for guests exploring the stunning Halong Bay and Lan Ha Bay in Vietnam.
Amanda Cruise is the FIRST and ONLY cruise in Halong Bay that offers a 2-day-1-night itinerary, taking guests to unspoiled spots such as Sung Sot Cave and Trinh Nu Beach with the longest and most beautiful route in Halong Bay. With a modern design fused with delicate classic styling inspired by European ships, Amanda Cruise is a true beauty of harmony, luxury, and charm.
Apart from offering a unique itinerary, Amanda Cruise pays great attention to creating unforgettable experiences for you. The cruise takes you on a long route discovering unspoiled, less crowded spots in Halong Bay. This offers you an extraordinary opportunity to enjoy the pristine beauty of Halong Bay to the fullest.
One of the highlights of Amanda Cruise's itinerary is visiting Sung Sot Cave, the largest and most beautiful cave in Halong Bay, where you can admire thousand-year-old stalactites. Amanda Cruise strives to provide you with a memorable night experience in Halong Bay with a Gala Dinner on the Sundeck (subject to weather conditions). The cruise also offers free herbal bags and foot bath basin for relaxation on the Sundeck after meals.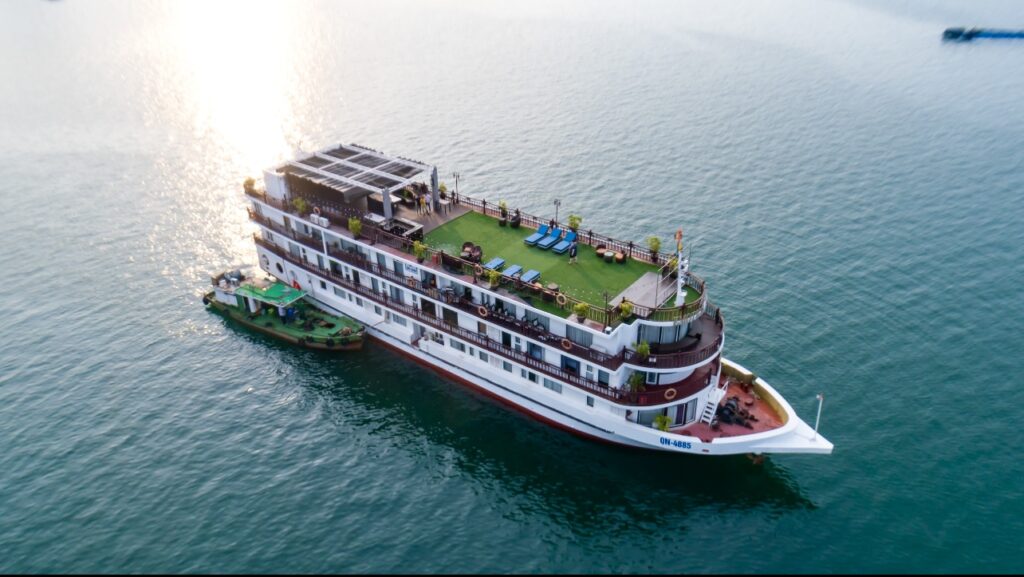 Amanda Luxury Cruise, on the other hand, is designed with an inspiration from Oriental Lotus – the flower symbolizing compassion, wisdom, delicacy, and the beauty of perfection. Guests boarding Amanda Luxury Cruise will be impressed by the Lotus figure, which is the main inspiration creating the unique beauty of Amanda Luxury Cruise in the middle of the poetic Lan Ha Bay. The cruise features luxurious design with modern and comfortable amenities in a harmonious combination with the essence of Vietnamese traditional beauty.
The 5-star cruise is designed with 4 decks and 18 modern rooms with a capacity of 40 – 60 guests departing from Tuan Chau Marina.
Amanda Cruise and Amanda Luxury Cruise offer a luxurious and unique experience for you exploring Halong Bay and Lan Ha Bay, providing unforgettable experiences and taking you to unspoiled spots for an extraordinary opportunity to enjoy the pristine beauty of the bays to the fullest.