Known as the "Jewel of the Gulf of Tonkin," Cat Ba Island never fails to captivate tourists with its crystal-clear beaches and stunning mountain scenery.
Geography of Cat Ba
Cat Ba Archipelago, also known as the Pearl Islands, consists of 367 islands and is the largest island among a total of 1,969 islands in the Lan Ha Bay. Cat Ba Island is located in the south of Ha Long Bay, offshore of the cities of Hai Phong and Quang Ninh Province. From an administrative perspective, Cat Ba Archipelago belongs to Cat Hai District, Hai Phong. Cat Ba has been recognized by UNESCO as a world biosphere reserve.
When is the best time to visit Cat Ba?
The ideal time to visit Cat Ba is from April to October, with the most beautiful weather being from May to July. During this time, the weather is relatively cool, the sky is clear, the sea is calm, and it is perfect for a beach vacation. You can enjoy swimming, cliff-jumping, or boating on the island.
If you plan to visit Cat Ba in July or August, you should pay attention to the weather forecast to ensure good weather conditions without storms.
From November to March, Cat Ba is relatively quiet due to the winter weather. However, many foreign tourists choose to visit Cat Ba during this time for relaxation and nature exploration.
How to get to Cat Ba
If tourists are coming from provinces in Central and Southern Vietnam, they can choose to travel by plane to Noi Bai Airport (Hanoi) and then take a bus or train to Hai Phong, or choose a direct flight to Cat Bi Airport (Hai Phong).
If tourists are coming from Hanoi or provinces in Northern Vietnam, they can travel to the center of Hai Phong by means of transportation such as buses and trains to ensure safety and save time, or if they want to go on an adventure with friends, they can use motorbikes.
After arriving at the center of Hai Phong city, tourists need to move to Cat Ba Island. The most popular and fastest means of transportation is taking the cable car to Cai Vieng pier. From Cai Vieng pier, they can go deep into Cat Ba town.
During their time on the island, tourists can choose to rent bicycles, motorbikes, or electric vehicles to travel and visit various tourist destinations on the island.
Tourist destinations in Cat Ba
Lan Ha Bay
Located in the east of Cat Ba, Lan Ha Bay boasts calm and crystal-clear waters, making it one of the most beautiful bays in Vietnam. Visitors can explore the bay and ancient fishing villages, go diving or rent a kayak to freely explore the sea.
Tour packages are available for purchase, ranging from 200,000 – 350,000 VND per person, including lunch.
Monkey Island Cat Ba
Also known as Cat Dua Island, Monkey Island got its name from the abundance of pandanus trees that used to grow here. Fishermen used to harvest pandanus leaves to make medicine at night.
Monkey Island features a smooth, white sand beach formed over millions of years, with clear seawater revealing layers of rocks and pebbles underneath. The highlight of the island is the many friendly monkeys who play with visitors without fear.
Cat Ba National Park
Cat Ba National Park is recognized as a UNESCO Biosphere Reserve. Visitors can explore the lush green Kim Giao forest and then climb to the summit of Ngu Lam for panoramic views of the national park and to discover caves…
The entrance fee is 40,000 VND for adults and 20,000 VND for children.
Cai Beo Fishing Village
According to archaeological records, Cai Beo has existed for 4,000 to 7,000 years, making it the oldest fishing village in Vietnam. Visitors can immerse themselves in the local life, culture, and customs of the people here.
Than Cong Fortress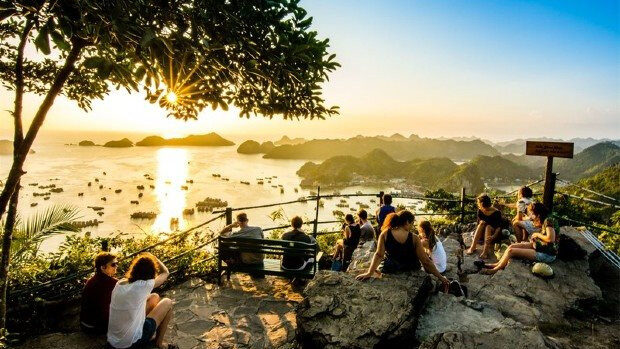 Located on a 177-meter-high hill, Than Cong Fortress was a strategic battlefield during the Vietnam War. It serves as a witness to the struggles of the people of Cat Ba, as well as a picturesque spot to admire the panoramic views of the island and sunset.
Cuisine in Cat Ba
Sea Urchin
When it comes to cuisine in Cat Ba, sea urchin is definitely a must-try dish. Sea urchin can be prepared with galangal and lemongrass, blended with the spiciness of chili and served with various vegetables.
You can also choose to grill the sea urchin over a charcoal stove to bring out the original flavor of the dish, combined with the taste of the ocean.
In addition, sea urchin is also a seafood dish that contains many nutrients and is used as a valuable medicine in traditional Chinese medicine.
Horseshoe Crab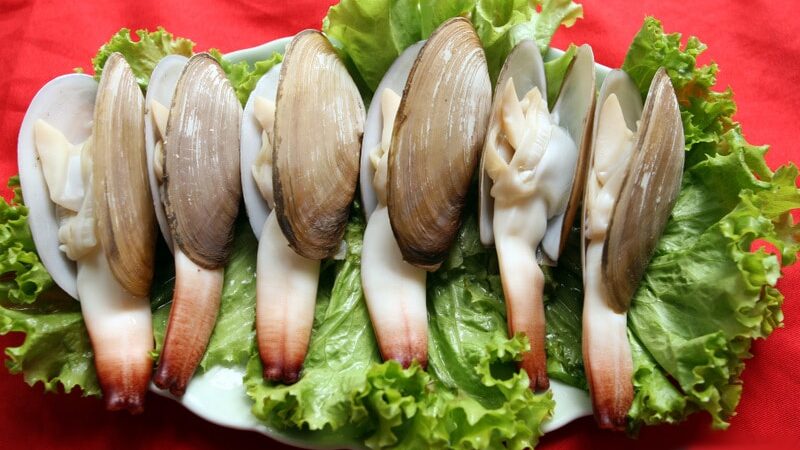 Horseshoe crab, also known as "con voi voi" by locals, is a dish that many tourists choose to enjoy. It can be prepared in various ways, such as grilled with scallion oil, congee, or steamed.
Sea Snake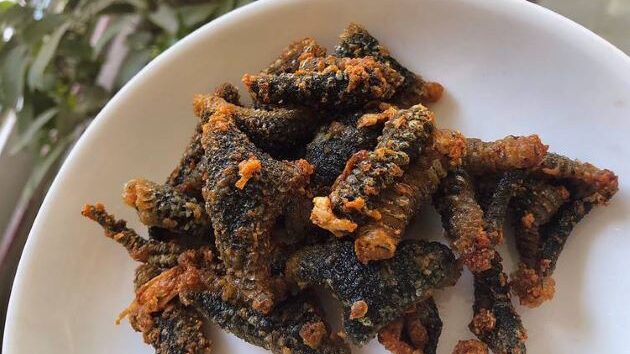 Sea snake is a specialty of Cat Ba that may intimidate some tourists at first sight. However, it is not only a delicacy but also a rare and valuable food. Therefore, if you have the opportunity to try it, you should not miss it.
Sea snake is often fried until crispy because it has many bones.
Shrimp Noodle Soup
When visiting Cat Ba, shrimp noodle soup is also a dish that carries a unique flavor of the place. There are not many complicated ingredients, just a bowl of shrimp noodle soup with fish cake, shrimp, and fresh herbs simmered in a rich, flavorful seafood broth. When enjoying this dish, you will feel the taste of the ocean in it.
This is also considered a culinary masterpiece of the locals in Cat Ba.