Quang Ninh Museum is a famous tourist destination in Halong Bay that many visitors love. It is considered the cultural center, containing many spiritual values of Quang Ninh.
Quang Ninh Museum is a great source of pride for the people of Halong. Not only does it have a unique and modern architecture, but it is also a Quang Ninh tourist destination that contains many important cultural and significant information.
1. Introduction to Quang Ninh Museum
Address: Tran Quoc Nghien, Hong Gai, Halong City, Quang Ninh;
Opening hours: 8am – 3pm, from Tuesday – Sunday;
Admission fee: 30,000 VND/adult; students are 15,000 VND/turn and children are 10,000 VND/turn.
The Quang Ninh Museum-Library is located on Tran Quoc Nghien Street, just 7.1km from the center of Halong City, so visitors can easily travel here by private vehicle.
To get to the museum quickly, visitors should go from Tran Quoc Street, then turn into Tran Hung Dao and follow QL18 to the destination. The roads are all large and spacious, so it only takes about 10 minutes to travel there.
2. What can you discover at the Quang Ninh Museum?
Museums are often thought of as dry and boring, but you will completely change your mind when you visit the Quang Ninh Museum – an interesting and extremely attractive destination.
2.1. Unique architecture of the Quang Ninh Museum, resembling a mysterious black pearl
The Quang Ninh Museum is a unique work of architectural art. Just looking from the outside makes tourists admire it. The appearance of the museum is extremely attractive with black glass covering all sides. It is like a giant mirror reflecting the majestic sky and sea of ​​Halong Bay.
In addition, the museum is designed in a unique square structure with black as the dominant color, which reminds many visitors of black pearls – a precious product in Halong Bay. In fact, the architecture of the Quang Ninh Museum is a delicate harmony between simplicity and modernity, tradition but very new.
Moreover, the font appearing on the front with the staircase system designed in a fascinating way has turned this Quang Ninh tourist destination into the most checked-in holy land in the mining area.
2.2. A vibrant treasure trove of art and history inside the museum
Not only does it have an impressive appearance, but the spacious interior of the Quang Ninh Museum also makes tourists even more amazed. With 3 floors of themed exhibitions, the museum will give you the most complete view of the nature and people of this region.
Floor 1: Space of the Sea and Nature
Floor 1 of Quang Ninh Museum is a display space with the theme of the sea and nature. Here, visitors can admire the skeletons of whales, giant sharks, and other marine creatures. In addition, LED screens provide valuable knowledge about the ocean, the history of evolution at the bottom of the ocean, and other useful information for those who love nature and the sea.
Floor 2: Display of Historical Artifacts and Treasures
On the second floor, visitors will step into the world of history with many models and artifacts from different periods, including prehistoric, primitive, and modern times. The unique and vivid displays on this floor portray the changes in the life of Quang Ninh residents over time. Furthermore, visitors can also learn about famous historical sites in Quang Ninh such as Dong Yen Tu Pagoda and Ha Long Bay.
Floor 3: Recreating the Entire History of the Coal Mining Industry
Coal mining is one of the symbols of Quang Ninh's people. Therefore, the museum dedicates the entire third floor to recreate the most detailed activities of this industry. Models of coal mines with identical sizes, or statues describing the working conditions of miners, will provide visitors with a clear understanding of the arduous and laborious work in this industry.
3. Tourist attractions near Quang Ninh Museum
After exploring Quang Ninh Museum, you can visit many other tourist attractions in Ha Long near the museum to make your trip more interesting.
3.1. Bai Chay Bridge – Icon of Ha Long
Bai Chay Bridge is located on National Highway 18, connecting Bai Chay and Hon Gai. With a length of up to 903m designed in a cable-stayed style, the bridge looks like a thin silk strip stretching over the Cua Luc River. Besides, the bridge and the surrounding scenery create a beautiful intersection, making many tourists amazed when they first set foot here.
3.2. Bai Tho Mountain – Coordinates to admire the beautiful Ha Long Bay
According to the Ha Long travel experience, Bai Tho Mountain is the most beautiful spot to admire the bay in Quang Ninh. This is a limestone mountain located in the city center, still preserving many poems of King Le Thanh Tong and Trinh Cuong. From the top of the mountain, tourists can admire the majestic Ha Long Bay.
However, mountain climbing activities on Bai Tho Mountain have been temporarily suspended due to concerns about the safety of tourists. Instead, you can visit and admire the scenery below. Please carefully update information from the local government before scheduling a specific itinerary for your Ha Long trip!
3.3. Long Tien Ancient Pagoda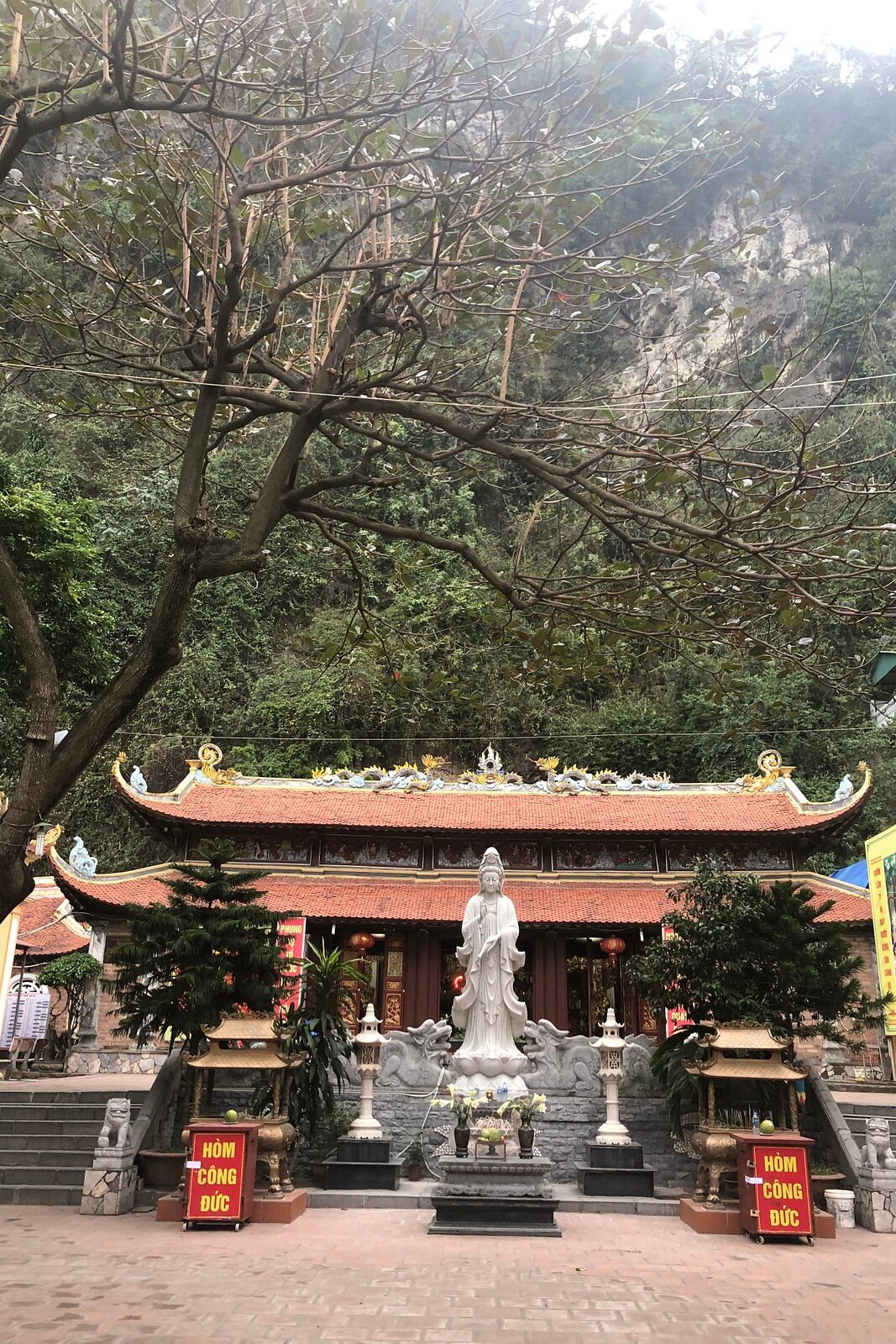 Long Tien Ancient Pagoda located at the foot of Bai Tho Mountain is a famous spiritual tourist destination. The pagoda owns traditional architecture, imbued with Vietnamese culture. The pagoda has also been recognized as a National Historical Monument.
3.4. Sun World Ha Long Entertainment Complex
Sun World Ha Long is also an entertainment destination near Quang Ninh Museum. This place attracts tourists with unique adventure games, a magnificent water park suitable for all ages.